Training & Development program
Take your career to the next level. The more energy and attention you invest in it, the greater the yield.
Any company that invests in employee development is investing in their own success. We @ Trinetra train our employees by creating a workplace that is adaptive, flexible, and ready for change. We have successfully organized and completed many training programs internally on core technologies handled by peer employees, mentors, external trainers or an e-learning repository of lessons that helps employees be updated with latest trends
Inductions and trainings are available for new employees and for employees moving into one role to the next higher role. We provide a vertical wise comprehensive and well-planned induction to ensure long-term effectiveness. Our employees have embarked on the journey of talent segmentation to identify high potentials, recognize them and provide them with a development plan to grow their career with the organization.
Our Certified Internal Auditor's Batch on this FY 2015-16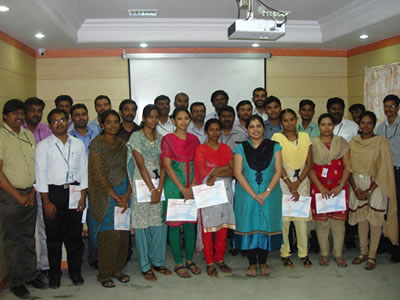 Enhancing quality management system by imparting Internal Auditor Training.