Industry : Transportation
Solution :
June 13, 2021
Introduction
We were approached by a prominent fleet operator and transport company operating across the country. They wanted to optimise vehicle usage and reduce total expenditure. They were looking for a solution to improve their fleet's efficiency and increase productivity of its operations. Their objective also is to get better insight into operations and costs of their refrigerated trucks.
The Problem Outline
The client had identified their pain points that the proposed solution can resolve and help them to gain insights, to move up to the next level, with the GPS enabled, mobile app supported software solution. They aimed at live monitoring of vehicle to reduce unwanted idling of the engine and thus help reduce fuel usage. They wanted alerts to be triggered to reduce product damage owing to temperature breaches of their reefer trucks. The real-time GPS fleet tracking system needed to keep drivers engaged with less violation on multiple aspects, with related alerts and on-demand location status to monitor route deviation. They wanted text messages/mail alerts to be triggered whenever trucks arrive or leave a destination or stop, with door open and close alerts, which would monitor temperature and security
The Solution Summary
Our team discussed the requirements of the client and offered a customised solution that addressed their pain points. The solution can Monitor the Temperature and set temperature limits based on variable products. The system enabled live monitoring and alerts including door open and closed alerts. On-Demand location and images of the driver were also provided. It also generated Text Messages/Email Alerts when the vehicles Arrives/Leaves the Sites. The software provided an easy-to-use, interactive dashboard and mobile app to monitor asset location and other parameters. The solution provides affordable hardware with low monthly payments. It also offers powerful alerts and reporting on movement, activity, geo-fencing and more.
The solution focused to improve productivity with detailed data insights. It enabled to schedule Routine Maintenance effectively. The GPS powered system helps improve driver behaviour during journeys. The software can identify any violation in temperature or breaches to reduce product damage. The solution will help to reduce breakdowns, improve vehicle usage and control the fleet's total expenditures.
Advantage of Fleet Management System software
Trinetra's flexible, web-based, customisable fleet management software offers advantages –
Reduces Violations by identifying them in real-time
Efficient Route Management
Reduces the product damage due to temperature breaches
Keeps driver engaged, resulting in lesser violations on multiple aspects
Customer business rules can be inducted and monitored when needed
Expectation based monitoring, custom based reporting
Affordable hardware and scalability with ever evolving hardware and software
Improves productivity with data insights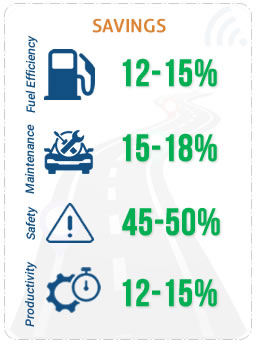 Outcome / Result
Improved upon daily operations and helped cost savings
Arrested the unwanted idling at locations, unplanned stoppages on planned route
Reduced idling time and decreased fuel consumption by up to 20%
Optimized operations with visibility of over 30%
Highlights
Implemented in 15+ countries with 13000 active deviceson count
Reduces wastage by nearly 40%
22% improvement in good driving behaviour
Reducing manual intervention and save up to 2.5 hours a day
Almost doubles the collection/deliveries per day
Client testimonials
"We have partnered with Trinetra for their fleet management software which is a proactive solution for us and our customers. It has reduced costs by monitoring speeding, idling and fuel usage. This real time data analysis helps our managers get insights into our vehicle and driver efficiency with reliable back-end support."
-Senior Transport Manager
Just send a request for a Demo and our team will contact you as early as possible. The Team will interact with you for further discussions on your requirements.
To learn more about our software solutions visit the TRINETRA Wireless website.