Trinetra – Award winning product uses industry leading mobile technologies to bring you world class intelligent mobile app for Vehicle Tracking & Fleet Management Solutions. Trinetra's intuitive mobile app helps fleet owners and executives to track the real-time vehicle location and manage fleet activities on iOS and Android mobile phones. The fleet management mobile app is available to download on Google Play & Apple App Store and can be accessed by the existing customers / users of Trinetra with same login credentials of Trinetra's Web Application.
Simple-to-use and having all the required information to manage fleet at single touch on Smartphone's' is what fleet managers love the most! That's exactly what TRINETRA has done. The most significant features from a GPS vehicle tracking solution should always be on palm of hands because it is highly important to be updated with the real-time fleet activities. Trinetra's feature rich and user-friendly mobile app empower users on the move with key information's such as:
Real Time location tracking of vehicles / assets
Digital Maps to demonstrate the position of the vehicles / assets
Intelligent Dashboard to view the key aspects
Monitor driving behavior and speeding violations
Complete movement history of the vehicle
View various alarms
Instant alerts, notifications and much more!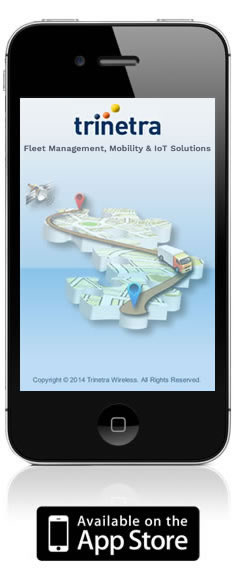 Users now have the option to use either their computers, laptops, smartphone's or tablets to stay up to date about your fleet activities. The ease of access and convenience that Trinetra offers to their customers is a tremendous value addition. With Trinetra's GPS Fleet Tracking Solution Mobile App you can seamlessly manage your fleet from anywhere, receive or send messages / notifications to fleet drivers, view fleet location, status and much more.