In today's busy world, ensuring school children's safety during transportation is a top concern for school administrations and parents. Our school bus tracking system addresses this concern by efficiently routing buses and providing real-time tracking, reducing delays and ensuring safety.
Trinetra's school bus tracking solution supports the needs of various professionals in the school transportation industry, including transport managers/incharges, admin staff, principals, and management faculty. Allowing them to relax, knowing that student safety, punctuality of school bus services and fleet efficiency are ensured, all while minimizing costs and downtime.
Key Challenges in School Bus Tracking System
In the education sector, where student safety and fleet operational efficiency are paramount concerns for schools, parents and administrators.
The education sector faces several key challenges:
Safety and Security Concerns: Ensuring the safety of students on school buses is paramount. Challenges include monitoring driver behavior, preventing unauthorized access to the bus, and responding to emergencies promptly.
Route Optimization: Designing and optimizing efficient bus routes that cater to multiple student pick-up and drop-off locations while minimizing travel time and fuel consumption is a complex challenge.
Communication & Parental Engagement: Maintaining effective communication between the school, parents, and students, especially in the event of delays or emergencies, can be challenging.
Maintenance and Fleet Management: Ensuring the proper maintenance of school buses, scheduling regular servicing, and managing the overall fleet efficiently are logistical challenges that impact system reliability.
Operational Efficiency: Educational institutions need to optimize their transportation resources to ensure timely and cost-effective school bus services.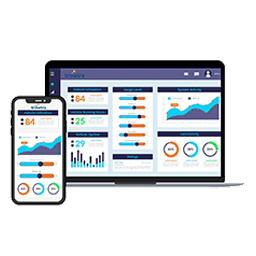 Ready to explore Trinetra in action?
Are you facing similar challenges? Trinetra offers a complete solution.
Features of Trinetra's School Bus Tracking Solution
Trinetra Wireless offers a cutting-edge solution with its School Bus Tracking System, providing a comprehensive solution tailored to the unique challenges faced by educational institutions and their transportation systems.
Real-time GPS Tracking: Provides instant access to administrators and parents for school bus location and arrival times.
Route Optimization: Suggests efficient routes based on traffic conditions, saving fuel costs and reducing travel time.
Driver Behavior Monitoring: Records and monitors driving behavior, including speed, braking and idling for safety and accountability.
Video Telematics: Captures real-time road footage, enhancing safety and monitoring.
Parent Mobile App: Integrated mobile application benefits parents and authorities.
Geo Fencing Alerts: Schools define boundaries; bus deviations trigger instant alerts to administrators.
RFID Integration: Integrate RFID technology to track students' entry and exit from buses, enhancing safety and accountability.
Breakdown Response: Respond effectively during bus breakdowns by quickly identifying the issue and taking appropriate actions.
Instant Alerts & Notifications: Notify for unplanned route deviations, violations, bus schedule delays, alternate bus arrangements, student entry/exit, time on pickup/arrival delay, etc.,
Efficient Fleet Maintenance: Manage fleet maintenance schedules efficiently, reducing downtime and extending the life of vehicles.
Emergency Alerts: In case of emergencies or unforeseen events, the system enables quick communication with the driver and immediate notification to both parents and the school.
Intelligent Reports: Generate comprehensive reports on fleet utilization, driver performance, and other key metrics to make informed decisions and optimize operations.
AIS 140 GPS Trackers: Enhance school fleet performance with government-approved real-time tracking & maintenance solutions.
API Support: Seamless Integration with Third party applications.
Benefits of School Bus Tracking System:
Student – Parent Link:
Delay at pick-up point is known.
The pick-up bus name is provided.
Real-time vehicle location tracking.
For working parents, records of bus time in and out to track students.
School bus attendance with a provided report.
Student's RFID punch card for data sharing.
Transport Manager:
Percentage of vehicle utilization is known.
Awareness of bus maintenance conditions.
Driver management to identify over speeding, sudden braking, etc.
Effective route management.
School Management:
Alerts sent if the bus does not stop at a designated stop.
Count of students on the bus and their entry/exit status.
Confirmation that all students have left the bus when the trip is completed.
Kilometer mileage status and identification of unwanted vehicle stops.
Real-time location tracking and estimated time of arrival.
Operational Benefits:
Reduction in breakdowns.
Reduction in engine idling hours.
Bus fee details sent to parents.
Notification to parents if their student misses boarding the school bus.
By implementing Trinetra's school bus tracking system and fleet management software, educational institutions can streamline their transportation operations, enhance student safety and provide real-time updates to both parents and administrators. Get Free Demo Today!
---