Enhancing Fleet Safety Operations and Management with Video Telematics Solutions
Our Video Telematics system is the ultimate solution to enhance your fleet management operations. With real-time video streaming and event-triggered recording, you gain invaluable insights into your fleet's activities, ensuring safety and efficiency. Invest in our system to run a smarter, safer and more efficient fleet.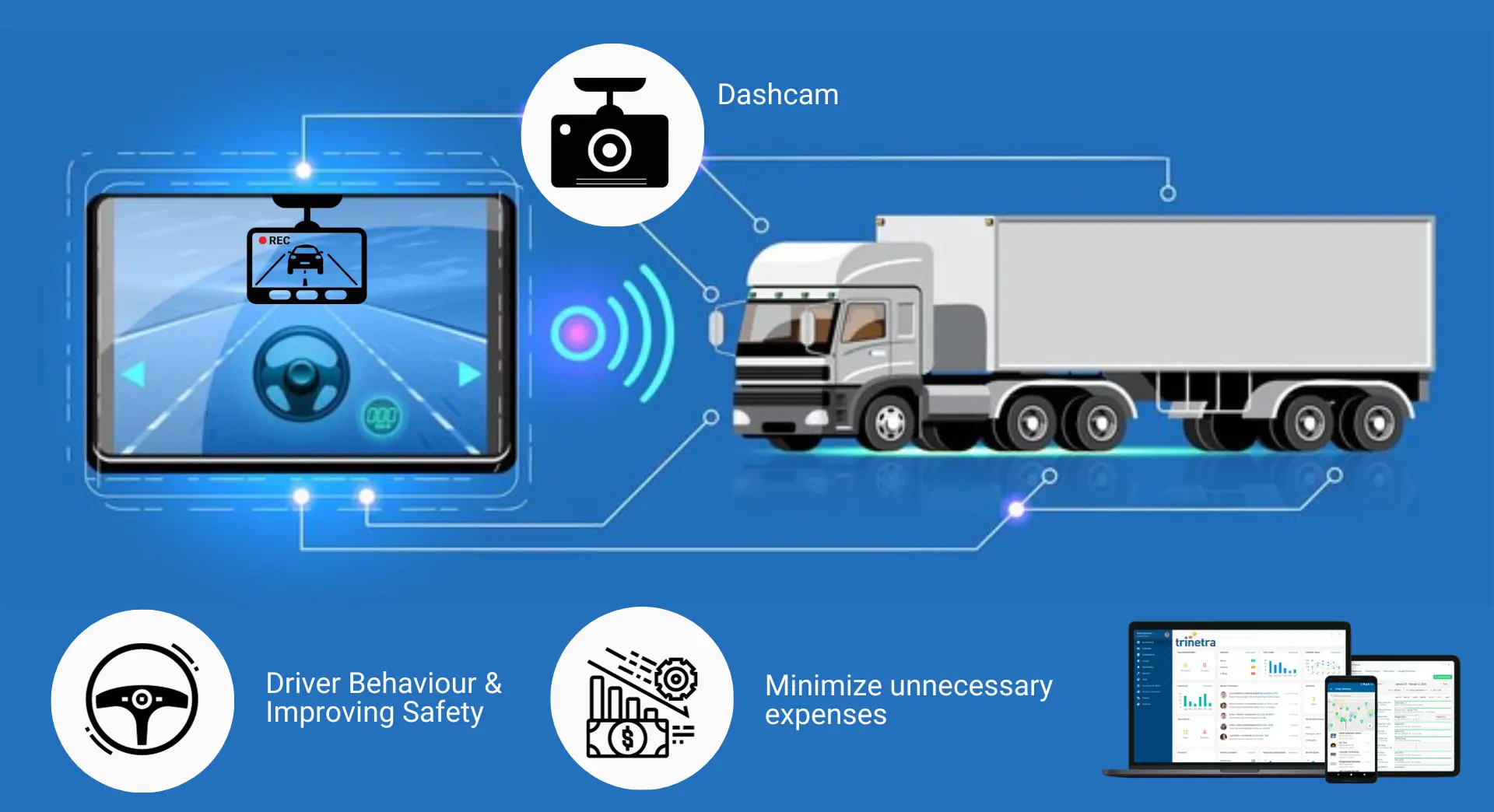 Video Telematics
Video Telematics is the integration of advanced video technology with telematics data. It combines real-time vehicle tracking with live streaming and recorded video footage, giving unparalleled insight into fleet's activities.
Our Video Telematics Solutions integrate advanced video technology with telematics data into a system powered by Dashcams and IoT sensors. It combines real-time vehicle tracking data with live-streaming video and recorded footage. This powerful synergy provides unprecedented insights into your fleet's activities and addresses crucial pain points such as driver behaviour, besides cost control.
Key Features of Video Telematics Solutions
Real-time Video Streaming: Access live video feeds for monitoring driver behavior, road conditions and cargo status. Ensure driver compliance with safety regulations and company policies.
Event-triggered Recording: Automatically record video footage during specific events like harsh braking, acceleration, or collisions, for accident event reconstruction and for reduced insurance claims.
Driver Behavior Analysis: Analyze driver behavior using video evidence, addressing issues like speeding, distracted driving and seatbelt usage.
Video Evidence for Accident Investigations: Simplify accident investigations with clear video evidence, facilitating insurance claims processing and legal proceedings.
Geofencing and Location Data: Create custom geofences to monitor vehicle movements in designated areas. Receive alerts for zone entries and exits.
Two-way Communication: Enable real-time communication with drivers through integrated voice and messaging features of the system.
Benefits of Trinetra's Video Telematics System
Enhanced Safety: Dashcams and IoT sensors support video evidence, promoting responsible driving behavior and reducing accidents and injuries.
Asset Protection: Real-time monitoring and video evidence from Dashcams and IoT sensors safeguard valuable assets and cargo, minimizing potential expenses.
Improved Compliance: Ensure compliance with regulations and company policies, reducing liability risks with the support of Dashcams and IoT sensors.
Reduced Operational Costs: GPS and sensor data integrated with video telematics helps in analytics which goes into optimizing operations and costs of running the fleet.
Peace of Mind: Gain complete visibility into your fleet operations, thanks to Dashcams and IoT sensors, helping to minimize unexpected expenses.
Effective Fleet Management with Video Telematics
Trinetra Wireless is dedicated to helping you optimize your fleet operations, enhance safety and improve efficiency while effectively controlling expenses. Our Video Telematics Solutions, powered by Dashcams and IoT sensors, provide the insights and control you need to succeed in today's competitive business landscape.
Contact us today to learn more about Trinetra's Video Telematics Solutions and how it can benefit your organization by addressing challenges and pain points.