The Chemical Industry plays a vital role in our lives, creating essential products from raw materials. Safety and sustainability are paramount in their transportation operations, with ongoing efforts to minimize emissions.
Trinetra's GPS vehicle and hazmat tanker tracking system add significant value, ensuring adherence to business standards. This is critical, especially for vehicles carrying chemical gas cylinders, where on-time monitoring is key to success. Trinetra provides custom KPIs, alerts and advanced concepts like timely customer entry, keeping stakeholders informed with real-time updates and intelligent reports via email, reducing manual intervention.
Key Challenges in the Chemical Industry
Safety and Compliance: Transporting hazardous chemicals requires strict adherence to safety regulations, which can be complex and vary by region.
Environmental Impact: Minimizing emissions and reducing the environmental footprint is crucial for sustainability.
Route Optimization: Chemical logistics often involve complex routes with multiple stops, increasing transportation costs and delivery times.
Driver Safety: Drivers face risks due to long hours on the road and the transportation of hazardous materials.
Asset Protection: Chemical cargo is valuable and can be a target for theft or pilferage. Keeping track of assets in real-time is vital to prevent losses and maintain supply chain integrity.
Efficiency and Reliability: Timely delivery and efficient logistics are essential for meeting market demands.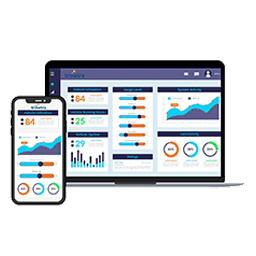 Ready to explore Trinetra in action?
Are you facing similar challenges? Trinetra offers a complete solution.
Trinetra's GPS Vehicle Tracking & Hazmat Tanker Monitoring System
Trinetra Wireless provides comprehensive GPS vehicle tracking and hazmat tanker monitoring solutions tailored to the specific needs of the chemical industry. Our solutions offer a range of features designed to address the unique challenges faced by chemical companies:
Solutions Offering
Temperature Monitoring: Real-time monitoring of chemical temperatures during transportation to ensure product integrity.
Valve Open/Close Monitoring: Track the status of valves on chemical containers for safety and security.
Panic Button: Instant alerts for unforeseen situations, allowing quick response to emergencies.
Real-time Vehicle Status: Monitor the status and location of vehicles in real-time for better fleet management.
Optimized Routing: Plan the shortest and safest routes, minimizing risks and ensuring on-time deliveries.
Driver Behavior Verification: Monitor driver behavior to enhance safety and reduce incidents.
Third-Party Integration: Seamlessly integrate with other systems and platforms for enhanced functionality.
Work Order Generation: Streamline operations with automated work order generation and management.
Benefits
Chemical Forecasting: Anticipate chemical needs and prepare catalysts accordingly, reducing downtime.
Temperature Threshold Alerts: Receive alerts based on temperature thresholds, ensuring chemical integrity.
Reliable Transit Times: Enhance service reliability by monitoring transit times and meeting client expectations.
Destination Notifications: Keep drivers informed about chemical delivery destinations, improving efficiency.
Emergency Response: Swiftly respond to unforeseen situations with panic buttons and real-time alerts.
Optimized Routes: Reduce overhead costs by selecting optimal routes based on vehicle type and safety considerations
Trinetra Wireless empowers the chemical industry to enhance safety, sustainability and efficiency in transportation operations. Our GPS vehicle tracking and hazmat tanker monitoring system offer real-time monitoring, intelligent reporting, and seamless integration. This contributes to safer, reliable chemical transportation while reducing costs.
We understand the unique challenges in the Chemical Industry and offer comprehensive fleet management solutions. Our cutting-edge technology ensures safety, security and efficiency, helping you excel in this competitive, highly regulated industry. Trust Trinetra for peace of mind in meeting your business standards.