In the modern world of Business Process Outsourcing (BPO) and Information Technology Enabled Services (ITES) companies, ensuring the safety of employees, especially those working in unconventional shifts, is of paramount importance. Trinetra Wireless understands the unique challenges faced by BPO and IT/ITES companies in managing their fleet and employee transportation. With our industry-leading Routing, Scheduling, Tracking, and Monitoring software, we offer comprehensive fleet management solutions tailored to the specific needs of this sector.
Key Challenges for BPO & IT / ITES Companies
Employee Safety: The safety and security of employees working during odd hours, especially women employees, is a top concern for BPO and IT/ITES companies.
Efficient Transportation: Managing a large and dynamic workforce that operates 24/7 can be a logistical challenge, particularly in optimizing transportation routes.
Response Time: Timely pickup and drop-offs are crucial to maintain operational efficiency and employee satisfaction.
Operational Efficiency: Competitive edge hinges on streamlined operations; manual tracking and reporting processes lead to errors, delays, and increased admin overhead.
Asset Visibility: Managing large vehicle fleets challenges real-time tracking, risking inefficiencies and higher costs.
Route Optimization: Timely service and cost savings rely on efficient route planning; without the right tools, longer travel times, fuel wastage, and increased emissions can occur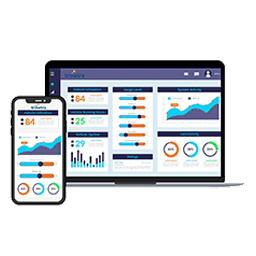 Ready to explore Trinetra in action?
Are you facing similar challenges? Trinetra offers a complete solution.
Solution Offering
Trinetra's Taxi Cab Tracking System is a critical component of our fleet management solution designed specifically for BPO and IT/ITES companies. Here's how our system addresses these challenges:
Real-Time Tracking: Our system provides constant real-time tracking and monitoring of all employee transportation vehicles.
Route Optimization: It offers the shortest routes for pick-up and drop locations, ensuring minimal travel time and punctuality.
Employee Safety: Fleet managers can assign cabs in real-time, enhancing the safety of employees working during unconventional hours.
Effective Utilization: Trinetra maximizes employee pick-ups and drops, optimizing vehicle usage.
Geo-fencing: Create geo-fences and monitor violations to ensure vehicles stay within designated areas.
Trip Scheduling: The system efficiently organizes and optimizes trip schedules for improved efficiency.
Turn-by-Turn Directions: It provides precise turn-by-turn driving directions, distances, and estimated drive times.
Alerts and Panic Button: In emergencies, our system includes alerts and a panic button for immediate assistance.
Benefits for BPO & IT / ITES Companies
Enhanced Safety & Security for employees: Provide a secure environment for employees working odd hours.
Effective utilization of cabs / vehicle / BPO fleet: Optimize resource allocation and reduce operational costs.
Efficient route planning & optimization: Minimize travel time and fuel expenses.
Improved route efficiency and facilitate the dispatch process for BPO fleets: Enhance operational efficiency.
Improved response time with shortest possible route: Enhance service quality and customer satisfaction.
Increased customer satisfaction: Deliver a more reliable and timely transportation service.
Effective monitoring of the cab services: Keep a close eye on the performance of transportation services.
Improved punctuality of the organization: Ensure employees arrive on time for their shifts.
Maximize productivity & Cost Reduction: Optimize operations for increased productivity and cost savings
Trinetra Wireless has a successful track record of partnering with leading BPO and IT companies globally, helping them manage their cab/call center vehicles and BPO fleet movement requirements. With our comprehensive fleet management solutions, BPO and IT/ITES companies can focus on their core operations while ensuring the safety and efficiency of employee transportation.